What is a Young Patterns-ambassador?
Our ambassadors helped design this project. As a student or young employee in our fashion industry, they share their ideas and concerns with the team.
And they promote Young Patterns! They are:
Motivating young people to get started in the fashion industry
Promoting Young Patterns
Making their own job / study visible
Advising Young Patterns on the needs of young employees
Present at all very relevant gatherings
The organisers of "Fashion Flows", the netwerkevent
The ambassadors are the voice of generation Y & Z.
Some of our former ambassadors
Fleur Vermeersch, bachelor fashion technology & student @Milan
Eline Rymenans, employee @Roularta Media Group
Sarah Jeurissen, emlployee @Bioracer
Sophie Reuther, employee @Bioracer
Marie Houtain, graphic quality manager at Advertype
Paulien Van Dam, production member at Van Noten Andries
Jitkse Vanassche, employee at Flanders Fashion Makers
Beau Bergmans, independant personal coach (after her career as employeee at Café Costume, Antwerp)
Ann-Sofie D' Hollander, employee at MRFG, Hasselt
Florence Philippron, employee at ONLY – BESTSELLER WHOLESALE BELGIUM BVBA Antwerpen
Laurie Buczynski
"The day you plant the seed, is not the day you eat the fruit.'
Job: employee for Sophie d'Hoore in Brussels
Contact: Instagram – mail – LinkedIn
Gives you advice on: her experience during the duo-internship, her foreign internship & her studies 'Modetechnologie – HoGent'
Pavani Vyncke
"If you spot it, you've got it."
Studies: Fashion Technology, without any previous training in Fashion.
Gives you advice on: her experience during the duo-internship, her studies 'Modetechnologie – HoGent'
Noémie Collado
Etudiante : HELMO Haute école
Contact: Instagram
Conseils sur : les études en mode et les stages en enteprise
Luna Boumans
"If you want to be successful in this world, you have to follow your passion, not a paycheck"  -Jen Welter-
Studies: class préparation d'art –
l'ESAAA (école supérieure d'art annecy alpes)
Gives you advice on: her choice of study & her ambitions
Bénédicte Catherine
Etudiante : Mode et Création à l'Institut Saint-Joseph (Jambes)
Contact: Instagram
Conseils sur : les études en mode et les stages en enteprise
Stories about our ambassadors
https://youngpatterns.be/wp-content/uploads/2021/12/fashion-talks-5.png
566
750
Katrien Janssens
https://youngpatterns.be/wp-content/uploads/2020/05/header_website_metYP-300x232.png
Katrien Janssens
2021-12-03 09:12:29
2021-12-03 09:13:13
Eline, ambassador of Young Patterns, attended to the 5th edition of Fashion Talks
https://youngpatterns.be/wp-content/uploads/2021/10/IMG_6567-scaled.jpg
1707
2560
Ann Collier
https://youngpatterns.be/wp-content/uploads/2020/05/header_website_metYP-300x232.png
Ann Collier
2021-10-15 17:08:05
2021-10-15 17:11:41
Belgian Fashion Week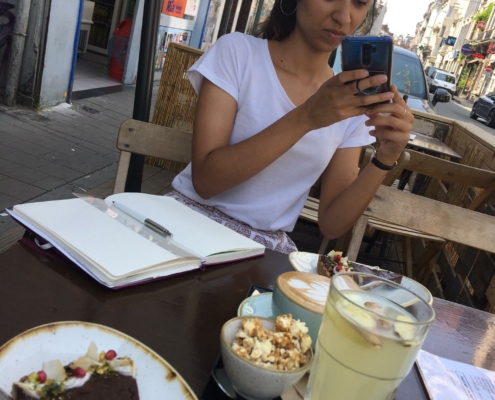 https://youngpatterns.be/wp-content/uploads/2021/08/WhatsApp-Image-2021-07-22-at-10.03.58.jpeg
1920
1440
Ann Collier
https://youngpatterns.be/wp-content/uploads/2020/05/header_website_metYP-300x232.png
Ann Collier
2021-08-13 08:55:35
2021-08-13 11:35:33
Pavani spoke with Ann Collier, the 'mama' of Young Patterns